OCT 16, 2019 – SANTA FE – A Santa Fe magistrate judge has dismissed the case against a Chimayó man charged with 34 counts of illegal trapping, on grounds that the New Mexico Game and Fish Department failed to serve the man with a search warrant and failed to preserve evidence.
Marty Cordova was charged in February 2019, three months after a neck snare he allegedly placed near a hiking trail snagged and strangled a dog at Santa Cruz Lake Recreation Area north of Española. The dog choked to death while its owner, who frequently took the lake for walks, desperately tried free her from the trap.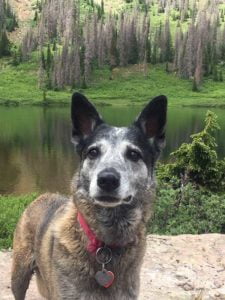 The case garnered considerable media attention and led legislators to introduce a bill that would have banned the use of traps on public lands nicknamed "Roxy's Law," named for the 8-year-old blue heeler mix who was strangled. But the bill failed to pass.
The legislation was backed by the advocacy group Animal Protection of New Mexico.
"We're deeply disappointed that the individual who allegedly killed Roxy won't be facing any consequences," Jessica Johnson, Animal Protection's chief legislative officer, said Tuesday. "If no one can be brought to justice in this situation, there doesn't seem to be any way to convict anyone illegally trapping and snaring on public land. We're told by trappers and the Department of Game and Fish that trapping is a highly regulated activity. But clearly the current regulations aren't enforceable if this guy is able to get off."
According to court documents, Cordova's attorney, Yvonne Quintana, filed motions in suppress evidence in the case due missteps by Game and Fish officials. Magistrate Donita O. Sena issued an order Oct. 4 accepting the motions and dismissing the case without prejudice, meaning charges could be re-filed.
But a spokesman for the Santa Fe District Attorney's Office said the case is dead. "With the suppression of evidence we would not be able to proceed," spokesman Henry Varela said.
A spokeswoman for the Department of Game and Fish said that the matter was still under investigation and had no comment.
Cordova was charged with 14 counts of unlawful possession of a protected species, 10 counts of failure to mark traps, and five counts each of trapping within 25 yards of a roadway and failure to check traps on a daily basis.
One motion filed by Cordova's attorney argued that evidence should be excluded because the officer in charge of executing the search warrant didn't serve Cordova with a copy of the affidavit used to obtain the warrant or read him his Miranda rights, as required by law.
Found during the search of Cordova's property were 10 bobcat skulls, six bobcat hides, five fox hides, as well as hides from a ringtail cat and badger, all of them frozen. Those are "protected" species that can be trapped, but in season and with a permit. The search also turned up Cordova's personal cellphone, which allegedly contained selfies he took of himself alongside some of the animals caught in traps.
Another motion argued that evidence was spoiled because the labeled plastic bags and containers in which the carcasses and pelts found at Cordova's home were discarded without the defense having an opportunity to inspect or utilize the packaging.
The third motion called for the suppression of photographs taken by trail cameras because Game and Fish officials selectively deleted images. "Absent disclosure of all photographs taken in possession of the New Mexico Department of Game and Fish (State), none of the photographs should be permitted," Quintana argued. The photos that were kept by the department captured images of the suspect and his pickup truck.