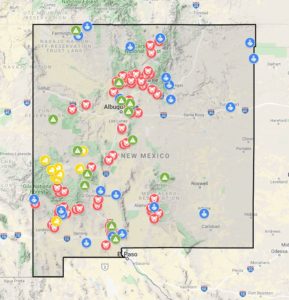 A coalition of conservation and animal protection groups has created an online map of illegal trapping incidents in 22 New Mexico counties.
The TrapFree New Mexico map, unveiled Monday, includes 23 documented incidents of trapping violations between 2015 and 2018, and says at least 78 pets were reported snared in traps during that period.
Most of those animals survived with wounds, but an Española dog named Roxy gained national attention in November 2018 after being caught in a snare and fatally strangled while walking with her owner at Santa Cruz Lake.
In January 2017, an endangered Mexican gray wolf was caught in a commercial trap and released, according to a news release on the mapping initiative.
"The wolf was recaptured 19 days later and was euthanized due to extensive damage and necrosis on the trapped foot," the release said.
The map comes just weeks after a Santa Fe County Magistrate Court judge dismissed the case against a Chimayó man who faced 34 counts of illegal trapping, including the one that took Roxy's life. The judge ruled that the New Mexico Department of Game and Fish had failed to serve the man, Marty Cordova, with a search warrant and failed to preserve evidence in the case.
Chris Smith of Santa Fe-based WildEarth Guardians, one of the groups that created the TrapFree map, said, "The map is equal parts of awareness and empowerment."
He said he hopes it draws attention to the issue and encourages people to report any incidents of illegal trapping.
The information used in the map came from several sources, Smith said, including a public records document from Game and Fish, data from the U.S. Fish and Wildlife Service, media reports and people "self-reporting to TrapFree New Mexico."
"Of course, we can't verify everything, but I have no reason to doubt the veracity of the self-reporting data," he said. "Could people abuse it? Yes. Do I suspect they will? I hope not."
The incident reports on the map include violations of trapping laws, such as one trapper's failure to check traps every day at a site north of Carlsbad, and incidents in which pets and people have been caught in traps.
Roxy's death led to legislative efforts earlier this year to ban trapping on state trust land, but the measure failed. Smith said he did not think lawmakers would introduce such a bill again when the Legislature convenes in January because the 2020 session will last just 30 days and focus primarily on the state budget.
State Rep. Matthew McQueen, D-Galisteo, who introduced Roxy's Law last year, said in an email Monday, "We're not planning on reintroducing trapping legislation in the upcoming short session, but I'm sure it will come back in the future. There is broad public support for banning this cruel practice in New Mexico."
He said he was "appalled" by the dismissal of charges against Cordova stemming from Roxy's death.
"If someone dropped the ball, they need to figure out how that happened and identify concrete steps to make sure it never happens again," he said.