It's barbaric. It's dangerous. It's archaic and a practice whose time has come and gone. Yet unlike too many of its victims, trapping is alive and well in New Mexico.
There are those who hope to change that – including a dog owner who recently saw his beloved pet strangled to death while they were walking on public land. He's joined by a pair of lawmakers – House Democrats Bobby Gonzales of Taos and Matthew McQueen of Galisteo – who are sponsoring the New Mexico Wildlife Protection and Public Safety Act.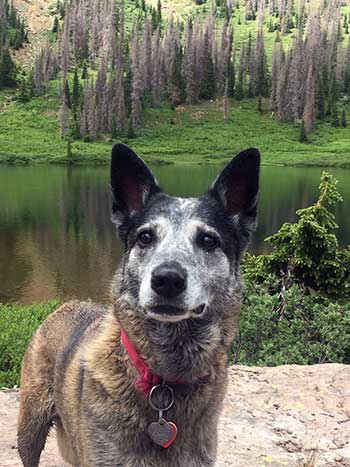 The legislation would prohibit the use of leg-hold and body-crushing traps, snares and poisons on public lands in New Mexico. It would not apply to private or tribal land; it explicitly exempts other hunting and fishing; and it contains exceptions for human health, ecosystem management and scientific research.
It's being sponsored in memory of Roxy, an 8-year-old heeler that died while on a trail Nov. 25 with owner Dave Clark at the federal Bureau of Land Management's Santa Cruz Lake Recreation Area near Española. Roxy was caught in a neck snare, and Clark worked to free her but was unable to loosen it before she died.
To make matters worse, when Clark finally freed Roxy from the snare and was carrying her body back to where he left his car, a bobcat that was caught in a leg-hold trap chained to a tree lashed out at him. The bobcat was so severely injured it had to be euthanized.
Similar trapping bans have had trouble passing in previous sessions, and this one will likely face opposition from groups such as New Mexico Trappers Association (NMTA), which claims trapping is part of New Mexico's rich heritage and for some families trapping is a way of life and sole source of income.
Surviving on maiming and strangling living things is tragic if true. And New Mexico has already stepped up and banned the so-called rich heritage of strapping knives to roosters that are jacked up on steroids so they can fight to the death. New Mexicans' humanity should prevail again.
Roxy's story is a sad one, and it's not unique. Dogs and wildlife are too often caught in traps' jaws or snares – the fox and the bobcat near Placitas, the dog in the East Mountains and the one near Taos, the cougar near Wagon Mound. Now take it a step further and consider what would happen if a child were caught while a family is taking advantage of one of the outdoor paradises we have in the Land of Enchantment. The state is being sued for allowing trapping on public lands that puts endangered Mexican Gray wolves at risk. It shouldn't take a lawsuit over a child's injury or death to get New Mexico on a better path.
Leg-hold traps were invented in the 1800s and have been banned in more than 80 countries, and banned or severely restricted in eight states, because they are cruel and indiscriminate. Poisons also kill unintended targets and cause equally gruesome, excruciating deaths. Newly elected Land Commissioner Stephanie Garcia Richard is pledging to remove the outdated and dangerous devices from state trust lands. It's time for lawmakers to follow her lead and ban them on all public lands.
The 2018-19 fur trapping season continues until March 15. Trapping was a romanticized and acceptable practice during the age of the mountain man in the first half of the 19th century. But this isn't 1845, and the age of the mountain man is gone.
Traps and poisons on New Mexico's public lands should be, too.
This editorial first appeared in the Albuquerque Journal. It was written by members of the editorial board and is unsigned as it represents the opinion of the newspaper rather than the writers.