BY SEN. ROBERTO GONZALES, / TAOS DEMOCRAT SEN. BRENDA MCKENNA, / CORRALES DEMOCRAT REP. MATTHEW MCQUEEN / GALISTEO DEMOCRAT AND REP. CHRISTINE CHANDLER / LOS ALAMOS DEMOCRAT
New Mexico's public lands are a treasure trove of opportunity for our state. They are cherished by all and an asset to our state's future. And public lands will be even more important as New Mexico's post-pandemic economic recovery will be aided in large part by our burgeoning outdoor recreation industry and strong tourism industry. Gov. Michelle Lujan Grisham brings the vision and leadership to make that effort a great success.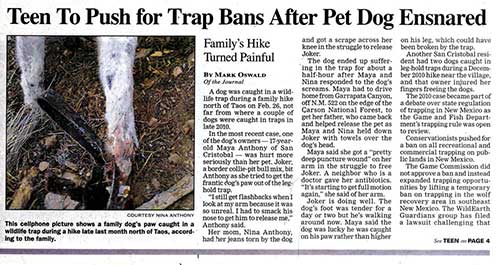 But story after story, year after year, has revealed a persistent, lurking problem on our public lands. Maya Anthony was 17 years old when a family outing on national forest land near her home in San Cristobal was cut short after her dog, Joker, was caught in a leg-hold trap. Panicked and in pain, the dog struggled and lashed out while his family tried to rescue him – leading to a deep puncture wound on Maya's arm, and a laceration on her mother Nina's leg. Unable to free the dog, Maya drove down the canyon to fetch her father at home for help, and he returned with towels to hold over the dog's head while they released Joker's paw. After about a half hour of suffering in the trap, Joker's foot was free and thankfully healed after a few days – but Maya temporarily lost full motion of her arm and required a round of antibiotics to stave off infection.
After this incident, Maya swore to advocate to stop trapping on public lands, and her advocacy led to the first introduction of legislation to address this problem in 2013. Almost a decade later, Senate Bill 32 has passed the New Mexico Legislature and now awaits the governor's signature to become law.
As co-sponsors of Senate Bill 32, the Wildlife Conservation & Public Safety Act a.k.a. Roxy's Law, we come to this subject matter with unique perspectives but have arrived at the same conclusion: It is time to end private recreational and profit-driven use of traps, snares and poisons on public lands in New Mexico. We are ready to put stories like Maya's – and Roxy's, the dog who died in a neck snare on public land in 2018 – in the past.
In this very moment, New Mexico has an opportunity to recommit to progressive, science-based, forward-thinking wildlife conservation. We can stop sabotaging our endangered species conservation efforts with accidental trapping injuries and deaths of Mexican gray wolves. As climate change continues to alter our land and water, we can renew our focus on responsible, thoughtful, humane management of wildlife species. We can join our neighbors of Colorado and Arizona as one of multiple states in the West who have removed hobby and commercial trapping from our public lands.
New Mexico is home to landscapes that provide unparalleled opportunities for hiking, backpacking, hunting, biking, rock climbing and more. We are home to millions of acres of richly biodiverse habitats, with unique native wildlife and endangered species populations that draw visitors hoping to watch birds, hear wolves and turn nature's beauty into art. New Mexico's outdoor recreation economy is growing faster than the overall state economy, and that is something we can leverage to benefit our urban and rural communities alike and support our home-grown businesses.
Thanks to our public lands, the future looks bright for New Mexico. Traps, snares and poisons have led to too many tragic endings. New Mexicans stand ready to tell a new story on our public lands – one of leadership in conservation, community, and green economic opportunities. By signing Senate Bill 32 into law, Gov. Lujan Grisham's pen starts that new story for us all.