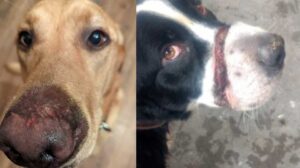 After his beloved dog Che's snout was caught in a leg hold trap, Montrealer Frederic Berard started a campaign urging Quebec to heavily restrict or even ban their use.
"Che was having a walk as always at my chalet, and he got trapped," said the constitutional lawyer. "I would say he was very close to dying because those are instruments to kill an animal, obviously."
When Berard posted the account of his dog's injury on Facebook, other pet owners began sharing their equally troubling stories.
"I received so many testimonies mentioning the same story again and again and again, and I realized it's not an anecdote, it's a phenomenon and we need to regulate that to stop that," said Berard. "In 2023, we're better than that in Quebec."
The damage done to animals caught in traps is often severe.
"We've seen animals come in with muscle tears through their legs, and we've had to try to suture them back together," said animal health technician Alexandra Yaksich. "We've seen animals come in that have been in these traps for days at a time, so they start to get very serious bacterial infections in their paws and going up their arms, and sometimes the only thing you can do in that case is amputate the arm."
Yaksich said the physical damage to the pet is written all over the face of the pet's owners.
"Often, the witnessing of such horrific images, especially when it's your own animal, to see muscle exposed, lots of blood, that's very traumatizing," she said. "Often we hear from clients that they have dreams about it, and they're still thinking about it years after it happened."
Read this article in CTV News Montreal | Sign the Petition on Change.org