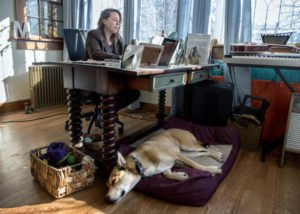 SANTA FE — When Mary Katherine Ray volunteers for Trap Free New Mexico, an organization that opposes trapping of fur-bearing animals in the state, it can be an intense experience.
She told members of the Senate Conservation Committee on Tuesday that she receives emails from those whose dogs have been caught in traps, often including graphic descriptions and photographs.
Her own dog was caught in a trap on public land near her home in Socorro County. She said it's made her hesitant to return to the area.
"It might as well say 'Keep out,' because I never want to hear my dog scream like that again," Ray said.
She may just get her wish. A bill that would ban most trapping on public lands in New Mexico cleared its first committee Tuesday, but not without concerns raised by some senators.
Members of the Conservation Committee approved the proposed legislation, Senate Bill 32, on a 7-2 vote, with Sen. Gregg Schmedes, R-Tijeras, crossing party lines to vote with Democrats on the bill.
The bill will now go before the Senate Judiciary Committee.
SB 32, sponsored by Sen. Roberto "Bobby" Gonzales, D-Ranchos de Taos, would effectively ban fur trapping on public lands in the state, which would include traps, snares and poisons. Much of the outcry has surrounded the accidental trapping of domestic dogs — eight have been caught this trapping season, though none fatally.
Some activities would be exempt from the bill, including trapping by members of Indigenous nations as part of religious or ceremonial activities. Those caught breaking the law would be guilty of a misdemeanor.
But Gonzales told the committee the bill's scope would go beyond just preventing domestic pets from being caught in traps — it could protect tourists using New Mexico's public lands.
"We see this as a big safety issue," he said.
Although it passed the committee by a comfortable margin, the bill did receive opposition, especially in the form of written public comments. Sixty people submitted comments against the legislation, while five commented in support.
Some senators also expressed concern. Schmedes said that although he voted for the bill, he is concerned about its potential implications on wildlife management.
"This cannot be an issue about (animal) cruelty," he said. "This has to be an issue about wildlife wellness in populations, and if we go down the cruelty route, it's going to take us away from scientific expertise."
Meanwhile, Sen. William Soules, D-Las Cruces, said he thought any restriction on trapping should include private land.
"If we only allow trapping on private lands, the Department of Game and Fish will just quit dealing with regulating trapping at all in the management of those species," Soules said.
It's not the first time in recent years legislators have considered this kind of bill. A similar law made in 2019 was passed by two committees before dying on the House floor.
The bill had been introduced not long after Roxy, a blue heeler mix, was killed by a neck snare trap near Santa Cruz Lake in 2018. As a result, many supporters of the 2021 bill have dubbed it Roxy's Law.