Mary Katherine Ray has seen traps up close.
One caught the leg of her dog Greta while they were hiking.
"I will never forget the sound of Greta's screaming," Ray told a New Mexico legislative committee on Thursday.
It was a story lawmakers heard over and over again — a story of beautiful days outdoors turned bloody by traps lurking in the brush.
Animal welfare advocates and others are renewing a yearslong effort to ban trapping on New Mexico public lands. And with House Bill 366, lawmakers are reigniting a visceral debate over the humane treatment of animals and deep-rooted traditions.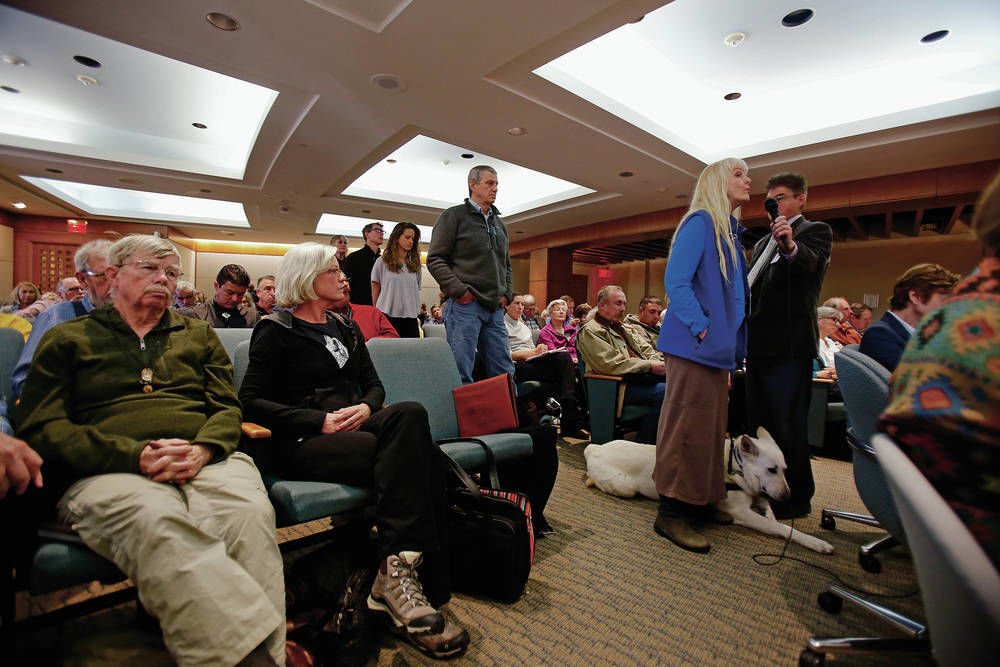 Critics argue that banning trapping on public land would not stop the sort of illegal trapping that usually spurs outrage.
Trappers legally are supposed to get a license from the state, mark their traps with an identifying number and abide by rules about where they can place their traps.
Banning the practice, ranchers say, would only deprive them of a method that is key to defending their cattle from predators such as coyotes.
"This bill is government overreach and hinders cattle growers from protecting their livestock," said Randell Major, president of the New Mexico Cattlegrowers Association.
In turn, ranchers say banning the practice would amount to one more blow to a way of life many of them already view as under threat.
But proponents of the ban argue that trapping has been ineffective, pointing to the coyote's spread across North America.
Neighboring Arizona and Colorado have banned trapping on public lands. And a range of groups, including hikers, birders, and search and rescue teams, have raised concerns about the dangers of allowing the practice in New Mexico.
"Wildlife management needs to advance in New Mexico. We're not controlling coyotes with these methods," said former Santa Fe Mayor David Coss, chairman of the Sierra Club Rio Grande Chapter.
When the House Energy, Environment and Natural Resources Committee took testimony from the public about the issue Thursday, however, the biggest argument against trapping was simply that it is cruel.
In a packed hearing room, critics of trapping recounted stories like Ray's of dogs or people caught in traps.
HB 366 has become known as Roxy's Law, in honor of an 8-year-old heeler mix strangled in a trap last month at Santa Cruz Lake.
But perhaps more than any other bill in the Legislature this year, the proposal reveals the divide between urban and rural New Mexico.
Sen. Pete Campos, D-Las Vegas, has convened groups from opposing sides of the issue during the past couple of years to try to forge some sort of consensus. He proposed a ban a couple of years ago that foundered in the Legislature, and he remembers how divisive the issue was. This year, he has Senate Bill 390, which would ensure the State Game Commission can address issues of trapping on public land.
But groups including Animal Protection Voters are rallying behind HB 366, sponsored by Democratic Reps. Matthew McQueen of Galisteo, Christine Chandler of Los Alamos and Bobby Gonzales of Taos.
McQueen put forward a series of mostly technical changes when the bill received its first hearing Thursday, ensuring the law would not apply to corral traps, for example, to tribal governments or to spay-and-neuter programs that catch and release feral cats.
The committee is scheduled to vote on the bill Saturday.
While the bill is likely to make it out of the House Environment, Energy and Natural Resources Committee, trapping bans have faltered in the Senate, leaving its outlook uncertain.