A dog's gruesome death at Santa Cruz Lake in a trap meant for wild animals has spurred a coalition of advocacy groups to call for New Mexico to ban trapping on public lands.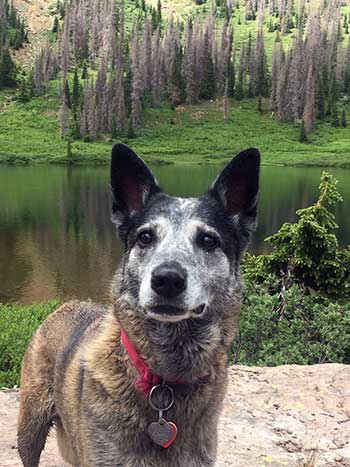 State Reps. Matthew McQueen, D-Galisteo, and Bobby Gonzales, D-Taos, will sponsor a bill to outlaw commercial trapping on public land, McQueen said this week. They're calling it "Roxy's Law" in honor of the 8-year-old heeler mix owned by Dave Clark of Española that died when strangled by a trap Clark was unable to remove.
McQueen said that while the legislation would outlaw commercial trapping on public land, it would not affect trapping for scientific purposes.
A spokesman for Gov. Michelle Lujan Grisham said Wednesday the governor has not taken a position on the issue.
In a news release, the TrapFree New Mexico coalition said the toll that trapping takes on native wildlife is difficult to know. "Reporting requirements exist for some species, but not for often-trapped so-called 'unprotected furbearers' like coyotes and skunks," the statement said. "The accuracy of reporting is unverifiable, and numbers do not adequately articulate the suffering and carnage that traps wreak on bobcats, foxes, critically imperiled Mexican gray wolves, coyotes, and other animals."
Clark, a retired mine regulator, said Wednesday he realizes the proposal named for his dog would not have saved Roxy's life. She was killed in November at a recreation area of the federal Bureau of Land Management that already is off-limits to trappers.
But he said he plans to testify in favor of the proposed law when the bill goes before legislative committees. "My main reason," he said, "is that I hope whoever set these traps learns what happened."
Clark said he has been hiking with dogs around Santa Cruz Lake near Española for about 2o years. On the day his dog was killed, he said, he was about 100 to 150 yards from where he had parked his pickup when he took a slightly different path than he normally does.
Roxy — a dog he had found abandoned on a road in the Four Corners area eight years ago — was not on a leash. "She was behind me and running to catch up," Clark said. "I heard this sound and I turned around. She'd been caught in a snare trap. I couldn't figure how to get it off. She was strangled while I was trying to remove it."
Clark was able to untie the trap from a nearby tree. As he was carrying his dog back to his truck, he said, he heard another noise and found a bobcat caught in another trap. A game warden later euthanized the bobcat, Clark said.
"I'm 65, and taking my dogs for walks is one way I try to lose weight and keep healthy," Clark said. He said he has another dog but hasn't taken that pet to Santa Cruz Lake since the fatal incident. "I'm terrified every time I walk by a juniper tree," he said.
It's not the first time New Mexico lawmakers have sought to curtail trapping on public land.
State Sen. Pete Campos, D-Las Vegas, sponsored such a bill in 2017. But the legislation never made it out of the Senate Conservation Committee, where ranchers and trappers descended upon the committee room to testify that the practice is a part of New Mexico's heritage and necessary to control predators that wreak havoc on livestock.
Alexa Sandoval, then director of the Game and Fish agency, argued that the Campos bill would be too restrictive. She testified that "the department has been supportive of trapping activity for more than 100 years, and it brings an economic benefit to the state."
She said the department would lose $40,000 if the restrictions were imposed. The department charges $20 a year for trapping licenses for New Mexico residents, $345 for nonresidents.
Also in 2017, Campos sponsored a memorial that called for the Department of Game and Fish to engage in "a dialogue with interested constituents regarding the future of trapping in New Mexico." That measure also went nowhere.
Lujan Grisham has yet to appoint a new Game and Fish director or new members of the State Game Commission.
The department's trapping rules don't require trap locations to be marked and don't require signs or other warnings. There are no penalties for trappers who unintentionally trap nontarget wildlife, including endangered species, protected species, domestic animals or humans.
Newly elected State Land Commissioner Stephanie Garcia Richard says she will negotiate with Game and Fish in an effort to stop commercial trapping on the 9 million acres of state-owned land that her office oversees.
In a statement issued through her spokeswoman, Garcia Richard said, "The upcoming renegotiation of the easement between the State Land Office and New Mexico Game and Fish is a perfect opportunity to discuss how we can amend it to stop commercial trapping on state trust land. This would not impact our families that rely on trapping for their food and livelihood."