San Cristobal resident Maya Anthony ended up with more injuries than her dog Joker after the pet was caught in a leg-hold trap during a family outing in the Carson National Forest near Taos last month. Panicked by the pain and trauma of being caught in the trap, Joker bit Maya and tussled with Maya's mom. Ultimately, it took three humans to free the dog from the trap, set off N.M. 522, on the edge of national forest land and not far from Maya's home.
The incident galvanized Maya, who already has lobbied for a ban on trapping. Now, she says, she's really going to push for a ban on leg-hold traps.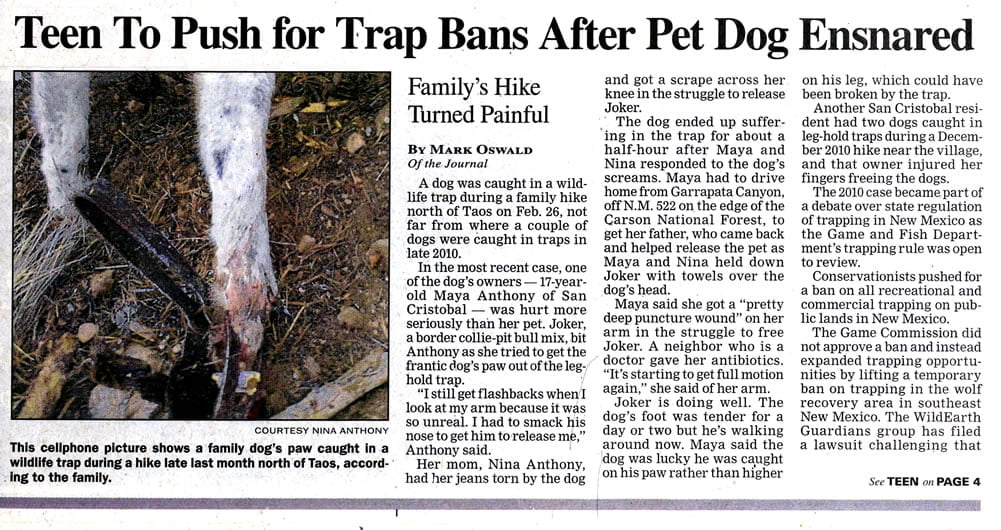 New Mexico is on of only a handful of Western states that allow trapping on public lands. Most of our immediate neighboring states ban the practice.
In 2010, when the state Game and Fish Department's trapping rule was up for review, the Game Commission lifted a previously imposed ban on trapping in part of the state, citing a study that found trapping had little impact on wild wolf survival. That may be true, but the Game Commission should have widened its focus.
At the time, dozens of letter writers told the Journal about experiences much like Maya's. Many dozens of witnesses also attended at a Game Commission meeting late last year to testify to the same thing.
It's clear that as the West has become more populated and outdoor recreation has increasingly become defined as — more or less — taking a walk in the woods, trapping is a hazard not only to pets but also to humans.
Currently, state law allows leg-hold traps to be set 25 yards away from a trail. Anybody who hikes with a dog — or answers a call of nature during an outdoor excursion — knows that margin is not nearly adequate to protect all involved.
In the last analysis, however, trapping is cruel. That's reason enough to prohibit it. As the Journal has long noted, another animal blood sport — cockfighting — also has finally been banned in New Mexico.
It's time to do the same thing with trapping.